Let me tell you one of my biggest issues is that when the blade goes dull, you end up cutting yourself more by having to put more pressure on the razor when shaving, and I am clumsy enough.
I received this product in Mid- December. I started seeing other bloggers post their reviews in Mid January and everyone was very happy, so in order to stand out I wanted to hold out until my blade buddy didn't seem to sharpen the blade anymore. Well we are mid March and I haven't seen that happen yet. I really seems to work amazingly well. My husband and I use the same one even.
So what is it? Check out this video: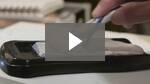 And how do you use it? check out this video: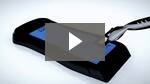 See all you have to do is add some shaving cream and take the razor and slide it from bottom of blade buddy to TOP, NOT from top to bottom, it will re-align the blades and restore the sharpness. See- its very simple and then you can use it. Repeat 15 to 20 times. We did this before each use since it only takes moments. Then rinse the blade after.
This product only costs 19.99 which really is just the cost of a refill pack of razors- so it is Totally worth it and recoups the cost for you immediately. Who else has had a razor last from December to March? and that is with 2 of us using it!
This is an awesome product for a couple reasons:
- It reduces waste since you don't use razors as quickly
- It reduces costs since you won't have to purchase blades as often
It can not restore old razors so just start with a new razor for a true view of how this works.
I was not paid for this review but did receive 2 samples. We used one to review, and I will be giving away 1 of them.
To win a Blade Buddy:
- Like Blade Buddy on FB
- Like Begin to Craft on FB
- Comment below when you have done both
You have until next Friday- 30th to share with friends and comment to win your very own Blade Buddy. Make sure there is a way to contact you- so at least leave your email address. Good Luck and check out this product.
WINNER:
Our winner chosen via Random.org is #6 Jereka Hunt.
Please check your email. Thanks for entering. More giveaways coming soon!